Awwww, we love to see a happy face and that's what we get when we create new fun activities. We have oodles and oodles of new printables that will be added to the site each week.
New! Spanish Word Searches - great for kids learning spanish or spanish speaking children.
New Printable Bookmarks! Super Reader Bookmarks & New Misc. Bookmarks
Daily Printables
My Reading Log, My Daily Journal
Today's To Do List,
My Prayer Log
& More!
Click for Daily Printables
Mazes added
Medium - Maze 1 Maze 2 Maze 3
Medium/Hard - Maze 4 Maze 5 Maze 6
Difficult - Maze 7 Maze 8 Maze 9
Bingo Cards - Easter, Birthday, KidStuff & Travel Bingo Cards Click for Bingo Cards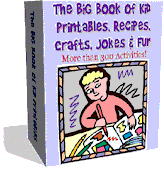 Get the Ebook with more than 300 Fun Activities to use over and over again!
No more spending money at the store, no more needing to go online to find fun for the kids. Print these from your own desktop whenever you want. No ads when printing, no extra text - just print the activity only. Click here to find out more.
NEW!!! Free Book - "Free Things for Kids" You'll find out how to get a ton of free things for your kids! They can send away for free stuff to be mailed to them via US Mail and receive hundreds of fun free stuff online too. They can receive, sunglasses, games, labels, jewelry, craft kits, books, music, posters and so much more!
Click here for your free copy
New Kids Playing! Great New pages of Kids having Fun!
New Geography Word Searches - Keep them thinking this summer Click here
We have NEW adorable "Country Kids" Printables! Check out the new Stickers, Thank You Notes, Stationary and Door Hangers!
Have you gotten your Celebrate America - stickers