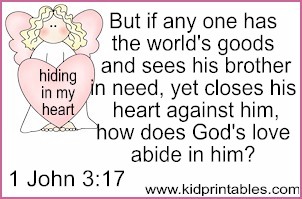 For christians, nothing is more important than learning God's word and memorizing it. As Psalms 119:11says: - "I have laid up thy word in my heart, that I might not sin against thee." Start your children on a wonderful habit that they can carry with them as they grow up.
We have verses available to print on both "boy" and "girl" cards. We have created bible verse memorization cards with scripture verses on them according to different words in the bible. Each page has four different verses to print out and cut so the children have a perfect size card to carry with them.
Print these, and encourage your children to memorize a verse every few days.
Printing Tip:
Be Sure to use White Card Stock to print these on for durability.
Like This Page & Share with Facebook Friends
Join KidPrintables.com Today - Free Membership - Great Perks! Click to Join